Friday, May 26, 2006
Monday, May 15, 2006
Congratulations Wilbur!
Our own Wilbur Flynn
was named Outstanding Employee of the Year by Education Support Personnel of Oklahoma.
Wilbur is the carpenter and locksmith for the Enid Public Schools. He was nominated by ESPO representatives in Oklahoma City and received the award at a banquet April 28 in Oklahoma City.
Wilbur has been with the Enid Public Schools for the past 25 years! He actively lobbies for the state ESPO group and also participates in the Enid Support Employees Organization.

Wilbur has also been a minister at New Hope Baptist Church in Watonga for the last 12 years and works part-time at Booker T. Washington Community Center.

Flynn will be recognized by Enid Public Schools Board of Education at a meeting at 7 tonight at the district's central office, 500 S. Independence.

Way to go Wilbur!! The class of '81 is proud of you.

Monday, May 08, 2006
Classmate Updates!
Greg and Denise Gulick
are in McKinney, TX. Greg has just started a new job and Denise is running her own business. They love the area they are in and both of their kids are doing great.
Janie (Champlin) Keeling
is leaving Enid and moving to Florida to be closer to her son who is attending school there.

Bridget (Conrady) Napoli
is taking her Real Estate exam next week in West Virginia. She and her family (husband and 3 boys) moved there last May. They moved to WV so her husband could manage a family property management company. For now, she is a stay at home mother
and loves it - after working since she was 16.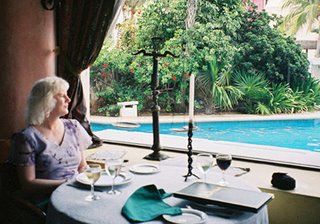 Rita Jackson
was interviewed by People Magazine last week regarding the character, Silas in the movie, The DaVinci Code. Although he is portrayed as having albinism (albino), other than light skin and hair, he doesn't have the characteristics of a person with albinism. Rita spoke with the reporter about what it's really like to live with the condition of albinism. It's possible that her information will land on the cutting room floor, but if it's not, the story about the DaVinci Code will be in either the May 12 or May 19 issue of People.
Michael Smith
is in Las Vegas. Enough said.
If you're not on this list send me some info so I can update everyone on where you are and what you are doing.
Thursday, May 04, 2006
A Little Get Together for Joni
The Saturday night get together to help raise money for Joni was fantastic! Joni looked great and you wouldn't have even known she had a cold by her upbeat, positive outlook on life. Mike was doing good and the evening was full of wine, appetizers and conversation.
You know you're getting older when you get together with high school classmates and instead of talking about your car, your salary and your house payment, you instead talk about your kids lives and trade parenting secrets.
The evening was a hit and I believe a gracious amount of money was donated to the Brown family. Thanks to everyone that showed up on short notice! I've been getting many emails from classmates that wish they could have attended.
Thanks to Ronnie Black and everyone that helped organize this special get together.
Here are some party pics!