Brent and Shelly Campbell Update
Brent Eugene Campbell is alive and well in Kansas City, still married to Shelly Breckenridge Campbell (27 years). He is currently doing that mysterious computer stuff Shelly doesn't understand for a company in Topeka, KS and commuting. They are very involved in their church and their youngest son's school.
Shelly has been the "Church Secretary" at Faith Community Church for around six years and is currently on a 4 week hiatus to spend time with family and get some household projects done. They have one son, Taylor 15, left at home full-time and one son, Nicholas 19, home summers from Dordt College. Their oldest two kids, Alicia and Jeremy, have children of their own and they are blessed with three grandchildren so far with one more on the way in the fall.
Life is good, very busy, but very good. They were sad they missed the 25 year reunion and plan to attend the 30.
The Campbell grand kids...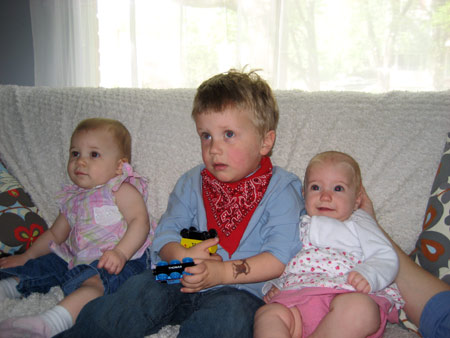 Shelly's Blog