Classmate Updates!
Greg and Denise Gulick
are in McKinney, TX. Greg has just started a new job and Denise is running her own business. They love the area they are in and both of their kids are doing great.
Janie (Champlin) Keeling
is leaving Enid and moving to Florida to be closer to her son who is attending school there.

Bridget (Conrady) Napoli
is taking her Real Estate exam next week in West Virginia. She and her family (husband and 3 boys) moved there last May. They moved to WV so her husband could manage a family property management company. For now, she is a stay at home mother
and loves it - after working since she was 16.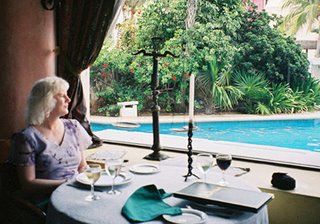 Rita Jackson
was interviewed by People Magazine last week regarding the character, Silas in the movie, The DaVinci Code. Although he is portrayed as having albinism (albino), other than light skin and hair, he doesn't have the characteristics of a person with albinism. Rita spoke with the reporter about what it's really like to live with the condition of albinism. It's possible that her information will land on the cutting room floor, but if it's not, the story about the DaVinci Code will be in either the May 12 or May 19 issue of People.
Michael Smith
is in Las Vegas. Enough said.
If you're not on this list send me some info so I can update everyone on where you are and what you are doing.