More Updates... and BIG NEWS!!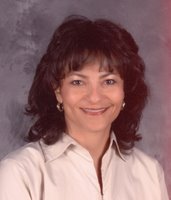 BIG NEWS from Joni!!!
This just in... Joni had her PET study last Thursday and it says that there is
NO ACTIVE MALIGNANCY
in her body! WOW...PRAISE THE LORD. Joni said to let all of our wonderful classmates that have been praying for her to know this news... and she wanted to be sure that GOD gets ALL the glory. Mike and Joni will be at the reunion on Saturday so be ready to celebrate!!
Joni is keeping a journal of her experience.
Joni's Journal
.
Carmel (Hollander)Shook
is now a Texan. She lives in Garland, TX (Dallas suburb) with her husband and two sons. She is working in the Financials department at Southern Methodist University in Dallas and loves it down there.
Her husband, Billy (class of '79) and her just celebrated their 25th wedding anniversary in June of this year. She is also a grandmother now! She has a two month old granddaughter that's cute as a button. Carmel spoils her rotten and sends her home with her dad.
Carmel cannot make the reunion but says "Ya'll have fun in August at the 25th. Give everyone my regards."
Kim Christy-Anderson
is married to Richard and they will be married 22 yrs this August and still live in Belton, TX.
Her oldest daughter, Brittany, is almost 21 and knows EVERYTHING! She is really an OK kid and is going to TSTC this fall. Taking her a while to figure out what she wants to be when she grows up, but yet knows everything!!! (Kim's mom said she was like that, but she doesn't remember, HAHAHAHA)
Her youngest daughter, Maeli, is 16 and plays varsity basketball. She is really tall and really coordinated (Kim had her DNA checked, yes she really is Kim's.) She will be a junior this coming year.
Kim just completed her 19th yr as an educator, the last nine as a jr. high counselor. She said kids are still doing some of the same nutty stuff we did and have added a few things we didn't think of. Kim will not be able to make the reunion.
Vicki Troutman (Slowik)
checked in. She is back in Enid and is going to try to make the reunion.
The Weldon Twins
are both back in Enid. Toby is single and has two beautiful daughters, 14 and 18 years old. They will be at the reunion.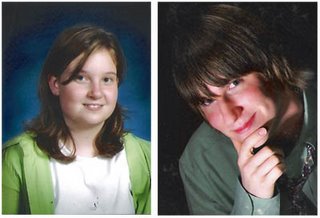 Cindy Goodwin (Tate)
is also in Enid. Her son Austin is starting his second year of college and her daughter Katie will be going into the 7th grade. Cindy works at Longfellow Jr. High and she loves it and never would have believed she would be back at the same school that she attended! For all you Longfellow alumni…she sees Mr. Wolfe walking through every once in a while(he drives the buses now) and she has seen Mr. Ogletree a few times also.
Cindy almost lost her husband 2 years ago to a heart attack, but after much rehab, he is doing well. It makes you realize how short life can be. Will Cindy be at the reunion?? Show up and find out!!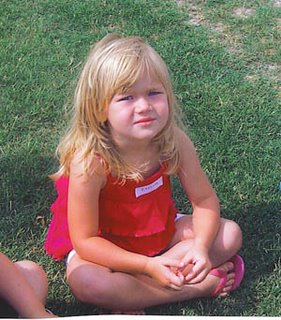 Brenda Moody (Isbell)
has made the big move south. She is in Waukomis. This is her daughter Taylor.