What's Everybody Up To?
Mary Porter
is a MOM!! We spotted Mary in the mall a few weeks back with a beautiful baby girl riding in a stroller. Mary and her husband adopted a baby girl and are living in Indonesia. Mary said she would send info and a pic but I think she might have forgotten the website address so remind her if you see her.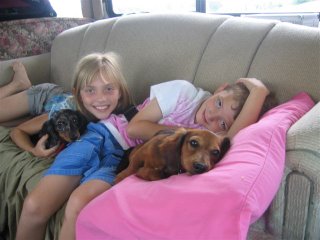 Debbie (Phillips) Linse
is married to Mark and they live in Oklahoma City and have just celebrated their 17th wedding anniversary. They have 2 young kids, Shea (9) and Hayden (7) as well as the two dogs, to keep them busy. They took up RVing about 3 years ago to travel with thier kids while they are still young enough to want to travel with parents. Debbie's mom lives at Golden Oaks, and she still has a sister and brother in Enid, so they try to get to Enid at least once or twice a month.
Tons more on the way... hang on.