Kim (Gould) Fogarty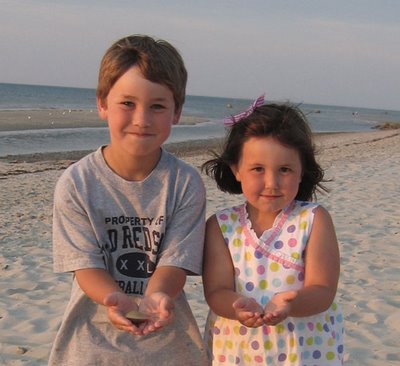 Unfortunately, due to a family trip, Kim couldn't make the 25th - but the 30th will be here before we know it and that one she will not miss.
Kim lives in Chestnut Hill, MA, a near suburb of Boston. She literally moved to Boston from our 10 year reunion to be closer to her boyfriend, Ken. They married in 1994. He is the US Treasurer of a UK based company.
Kim teaches half-time at a private school in town. She switched from a career in technology to teaching technology 10 years ago. She works part-time as a Technology Integration Specialist for grades K-4.
Kim has two children (above), Jake (age 7) and Amanda (age 5-born a few days before the 20th reunion). They live on Cape Cod in the summer, so the photo of the kids was taken on a recent evening beach visit. In the spring and fall, they spend time going to Red Sox games and attending Boston College athletics (her husband's alma mater). Her brothers and mom live in Edmond now, so she hasn't been to Enid since the 10th. Kim misses Enid more and more the older she gets.
Anyone in the Boston area should look her up!