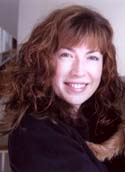 From the tennis court to courting Hollywood, Jenny Fowler Graham is serving up the sound of music. The 1981 Enid High School graduate and former tennis star is a session singer for two vocal contractors in Los Angeles. In layman's terms, that means she sings with a backup choir or does vocal background sounds for movies. Her most recent work was for the children's animation "The Polar Express," now showing at Oakwood Mall Theatres. "I did quite a bit of sessions for 'The Polar Express,'" Graham said in a recent phone interview. "I did five different sessions," She sang backup for classic pop singer Josh Groban's track "Believe." "It was a good song, too, not just pop. It was a pretty song," Graham said.
She also worked closely with composer Alan Silvestri. "He's a genius. I hope he wins an Academy (Award)," Graham said. Silvestri previously penned music for the "Back to the Future" series, "Cast Away," "Forrest Gump" and "Van Helsing." Perhaps one of the most interesting roles Graham portrayed in "The Polar Express" was a singing elf. It was "like being at a football game as a drunken elf. We got to sing out of tune — we're (session singers are) always so precise most of the time."
As a session singer, Graham doesn't know what she'll be doing until she gets to the studio. "It's not a case of having the music beforehand. It's a matter of sight singing," she said. Graham described much of work as "mainly mood stuff. Oohs, aahs." "We get excited when we have words to sing," she said. "You go and might be asked to sing something on your own. Or you have to sing with three people. You go and be ready." "Some movies just want a few things with vocals, some movies have lots of vocal texturing," Graham said. She said she might be in the studio for a few hours or the session might last for days. "There's no set rule." Since March, she's participated in six movies, including "Spider-Man 2," "Van Helsing" and "I, Robot." Graham has a couple of movies coming up this holiday season, but she said she wasn't at liberty to speak about them.
So does she go to the theater and watch the films she's worked on to check out what made it and what hit the cutting floor? "If we go, it's because my kids want to go and see it," Graham said. "Sometimes it's so disappointing." The mother of 11-year-old twins, Thomas and Emily, Graham and her husband, Mark, have lived south of Los Angeles for the past six years.
Before moving to California, the family lived in London. "I used to do sessions in London when we lived there. I stopped when I had the twins. I didn't sing for a few years," Graham said. During her 10 years in England, Graham did work for the BBC and was a member of the a cappella group, The Swingle Singers. The Swingle Singers, which formed in England in the early 1970s, regularly consists of eight session singers who perform a variety of music from classical pieces to popular movie soundtracks. The group is still popular in Europe today. "I did that for four years. The singing was very clever and tricky," Graham said. She said she was excited to slip back into her singing career now that the twins are older. "My husband is in the movie industry as well. He knew the right people to send things to. That helped me out a lot," Graham said. "It's really like a dream come true. I've always enjoyed it. I'm glad I get to do it again. My kids think it's really cool, too."
Does tennis ever cross her mind anymore? "I had to choose in college - a scholarship for tennis or a scholarship for music. I kept with the singing. I stopped playing tennis," Graham said. Now that her children play soccer and tennis and dance, "I've started back. I play for teams here, mainly for exercise."
By Ruth Ann Replogle
Lifestyles Editor
© Enid News and Eagle 2004